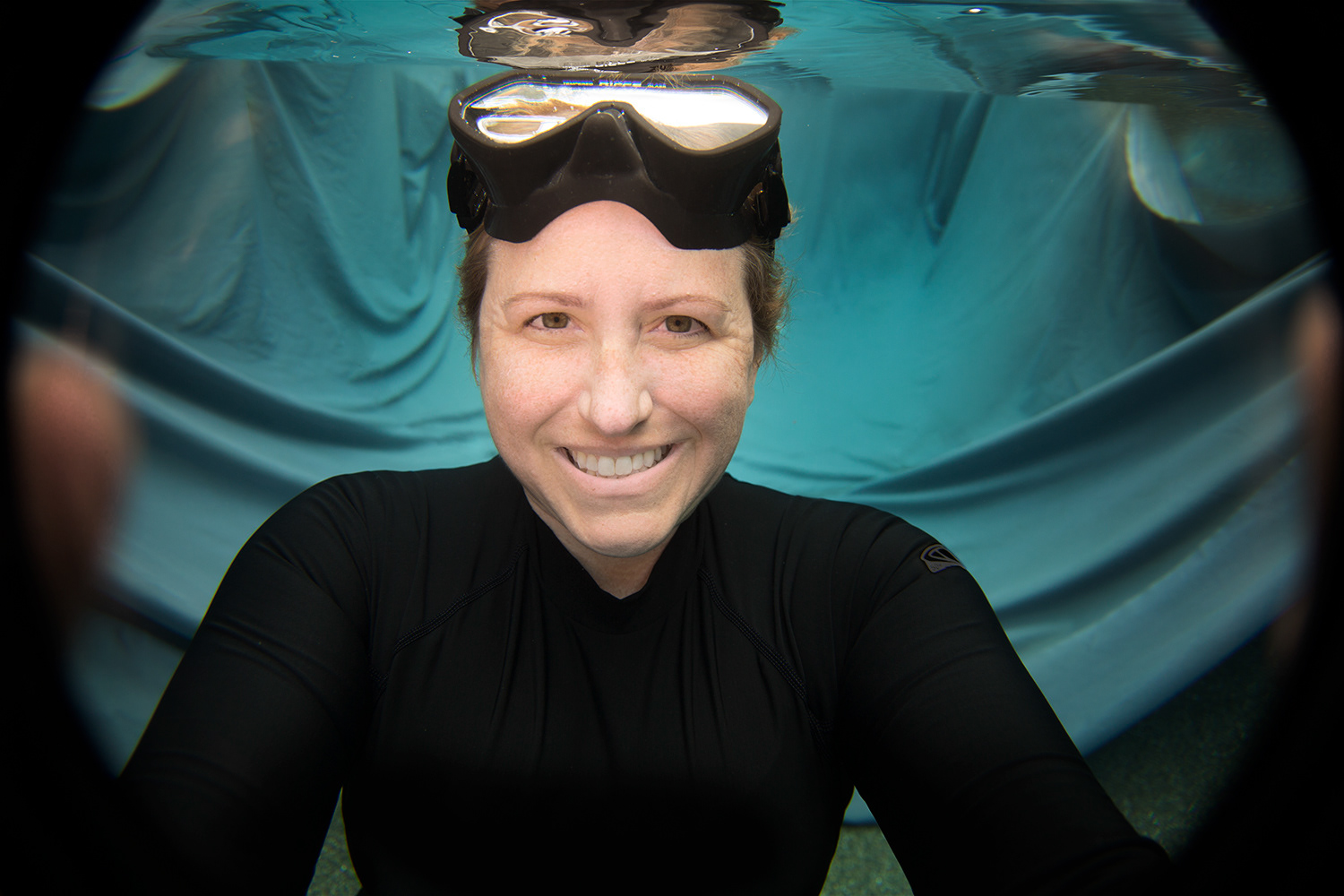 Underwater Fine Art Portrait Photographer
In an overwhelmingly chaotic world, Southern California native, underwater fine art portrait photographer Cheryl Walsh finds her inspiration in an atmosphere of peaceful solitude.  In the depths of her underwater studio, she works with her camera in the quiet currents that slow down time, bring vibrancy to colors, and leave her subjects virtually weightless. Combining the science of working underwater with the art of photography, she utilizes elaborate, unique, avant-garde costumes and styling with traditional portraiture to tell dream-like stories in each of her fine art series. Her internationally award winning photographs are described alternately as old-world painterly or illustrative yet are entirely photographic and acclaimed for their ethereal and effortless feel, exquisite lighting, attention to fine detail, posing and color harmony.  To maintain absolute control over her art Cheryl prints her images herself on specifically chosen fine art papers in sizes up to 44x66 inches, often time finishing them with large, ornate, solid wood, gilded frames.
Gaia Magazine: Spring 2020
Enchanted Living Magazine, Summer, Art Nouveau 2019, article, 8 page spread
Photoshop and Photography online, January 2019, link:    https://www.photoshopandphotography.com/featured-artist-cheryl-walsh/
Faerie Magazine, Summer 2018 issue, Cover and featured article, 10 page spread 
Pacific Coast Magazine, Winter/Spring 2018 issue, featured article, 5 page spread 
Bespoke Magazine, Summer 2018 issue, featured article, 5 page spread 
FAE Magazine, Spring 2017 issue, cover and feature article, 5 page spread 
Cameracraft Magazine, Nov/Dec 2017, cover and feature article, 10 page spread 
Apero Gallery, Nov 2017 Gallery Catalogue "Reflections," Cover Image
Rangefinder Magazine, September 2016, cover and feature article, 4 page spread 
Web podcasts and webinar:
~ Pro Edu podcast, February 2020:
~ PhotoBiz Xposed Podcast with Andrew Hellmich,  August 2020
~ Brett Stanley Underwater Podcast, June 2020
~
Nicole York's The Social Hour
, October 2020
~
Conversations with John Cornicello
, October 2020
Article about Printing on Pro Edu Blog:
A Photo Mentor program through Pro Edu:
Photo LA  January 2019
OCCCA (Orange County Center For Contemporary Art)
"The Underwater World of Cheryl Walsh," Solo Gallery Exhibition. 
October 5 - 27, 2019  
Festival of Arts/Pageant of the Masters Laguna Beach
Canon Learning Center - 2017, 2018, 2019
WPPI Master Classes - 2017, 2018, 2019, 2020
PhotoCon Hawaii - 2018 Keynote speaker
Palm Spring  Photo Festival - featured workshop 2019, 2020, 2021
PhotoPlus Expo NY - 2019 for Rotolight and Canson Infinity 
 Winner of over 60 WPPI Print and Image Competition Awards including:
o   13 Gold Awards
o   11 First Place, 6 Second and 4 Third Place Awards
o   International Portrait Image of the Year Award
o   Winner of the coveted WPPI Grand Award 2016
o   Triple Master distinction from WPPI
o   Winner Canon Camera International CPS Image of the Year Award 2013
o  Named one of the top 11 Fine Art Portrait Photographers in the world by SIFPP The Society of International Fine Art Portrait Photographers
Featured artist in documentary LAaRT on PBS TV.
Canson Infinity Fine Art Paper Global Brand Ambassador since 2016
Created videos for and was the face of the marketing campaign for Canson Infinity International and Canon Large Format Print Europe, Africa and the Middle East's launch of new line of Canon imagePROGRAF Pro Printers 2019.
One of three, and only female, chosen for the global marketing campaign for the release of 4 new fine art papers from Canson Infinity.  February 2021
Rotolight Master of Light
Website: CherylWalsh.art
instagram.com/cherylwalshfineart 
facebook.com/CherylWalshPhoto
tiktok @cherylwalshfineart
YouTube.com/CherylWalsh